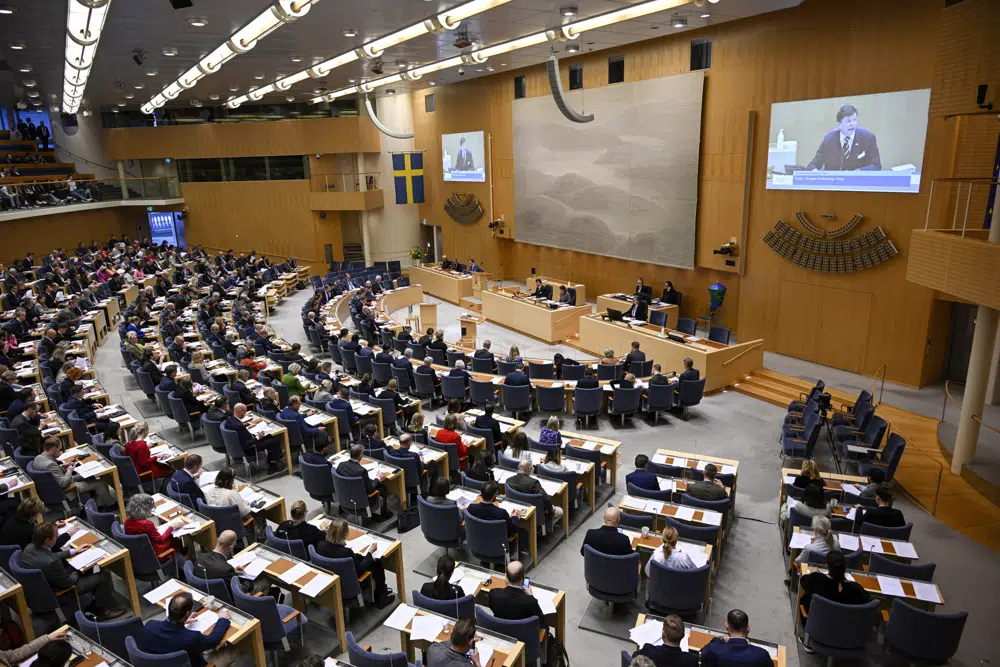 Lawmakers sit at the Swedish Parliament in Stockholm, Sweden, Wednesday March 22, 2023. Swedish lawmakers have overwhelmingly voted in favor of Sweden joining NATO with lawmakers signing off on membership along with the required legislation. The 349-seat Riksdagen, or parliament, on Wednesday voted 269-37 to clear the last required domestic hurdle to becoming part of the 30-member Western military alliance.
COPENHAGEN— Swedish lawmakers overwhelmingly voted Wednesday in favor of Sweden joining NATO, signing off on the country's membership along with the required legislation.
The 349-seat parliament authorized Sweden's accession to NATO in a 269-37 vote, with 43 lawmakers absent. It was the last required domestic hurdle to the country becoming part of the 30-member Western military alliance.
Six of the eight parties represented in parliament were in favor of NATO membership, and the vote that followed a nearly seven-hour debate was seen as a formality.
"Membership in NATO is the best way to safeguard Sweden's security," Foreign Minister Tobias Billström said during the deliberations. He called it "a historic event" and "one of the most important security policy decisions ever for our country."
Speaking of the timetable for Sweden's possible accession, Billström told lawmakers during the debate that "it goes without saying that we will be able to become members in Vilnius," the Lithuanian capital, where a NATO summit is to be held in July.
"The backing we have is so tangible that I can make that assessment," he said.
Both Sweden and neighboring Finland applied to join NATO in May 2022, abandoning decades of non-alignment in the wake of Russia's invasion of Ukraine.
Morgan Johansson of the Social Democrats — Sweden's largest party, which once opposed NATO membership — said that joining the alliance was "about seeking in every situation the solutions that provide maximum security for the people of Sweden." The party was in power when Sweden applied for membership.
Two NATO countries, Turkey and Hungary, have yet to ratify the Nordic nations' applications. Admitting new countries requires unanimous approval from existing members.
Turkish President Recep Tayyip Erdogan said last week that his government would move forward with ratifying Finland 's bid, paving the way for the country to join the alliance before Sweden. Erdogan said Sweden still must resolve the Turkish concerns that had delayed action on the joint application.
The Turkish government accused both Sweden and Finland of being too soft on groups that it deems to be terror organizations, but expressed more reservations about Sweden. The government in Ankara cited demonstrations on the streets of Stockholm by supporters of Kurdish militants.
A series of separate demonstrations in Stockholm, including a protest by an anti-Islam activist who burned the Quran outside the Turkish Embassy, also angered Turkish officials.
"It is problematic to enter a military alliance with countries that are not democratic and where we constantly see democracy shrinking," Hakan Svenneling of the Left Party said, referring to Turkey and Hungary.
His party and the small environmentalist Green Party both condemned the Russian invasion but were against joining NATO, saying it would mean Sweden was moving a step closer to either hosting nuclear arms or being part of an alliance using such weapons.
The bids of the Nordic neighbors, which are close partners culturally, economically and politically, are historic as Sweden has not been in a military conflict in the past 200 years and Finland has remained military non-aligned since World War II.
On March 1, Finnish lawmakers also approved Finland — which borders Russia — joining NATO.
Source: AP News